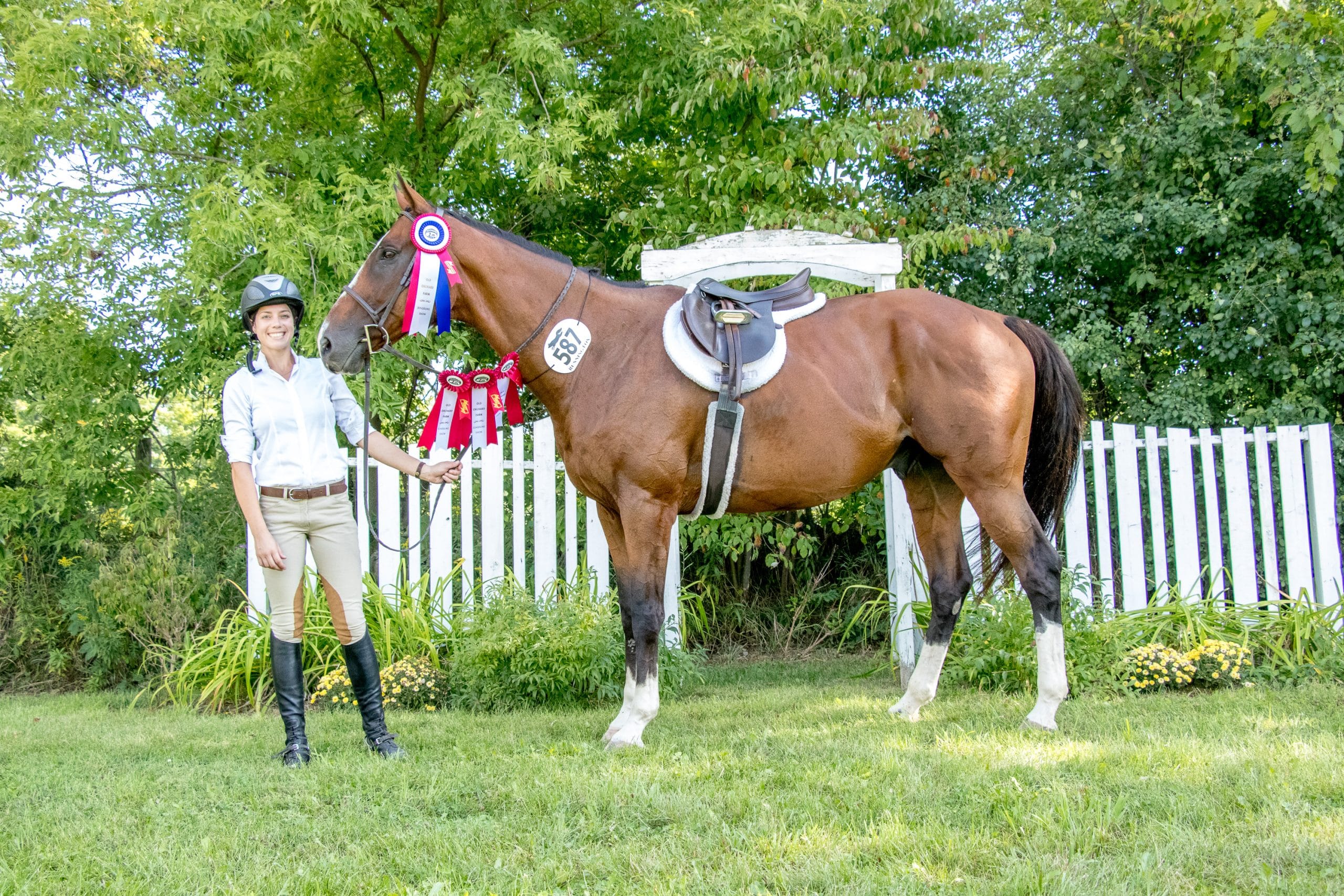 Barn Name: Toby
Birth Date: March 5, 2008
Sex: Gelding
Color: Bay
Breed: Thoroughbred
Height: 17 hh
Toby is a very loveable, kind-hearted gelding that was lucky enough to find his way to Offshore Acres. Britt and Nick rescued both him and Rory (see her bio below) from a horse auction where they were bound for slaughter. Britt was betting for Toby and Rory and when the meat buyer capped out at his maximum, both horses became theirs in August 2017. Toby is an Off the Track Thoroughbred who won a mere $325 after only 3 starts
When Toby arrived he was underweight, had severe mud fever on both backs legs, and even some on the front. He was neglect. He was skittish and flighty when in the cross-ties and tacking, and had to be taught how to trust people again. Through patience, Britt slowly brought him along over the 2017-2018 winter and Toby began to flourish. He was destined for the hunter ring.
Toby steals the hearts of many people he meets. His personality has really evolved into an amazing, steady, personable and reliable gelding. Dakota, a young close-friend and barn hand for Offshore Acres, fell for his amazing personality and full leased him during the 2018 show season. Together, with the guidance of Britt, they took on the season with all their heart and efforts and every show they got better and better and began placing in classes with over 15 riders!
Britt was able to show Toby a few times in the 2018 season as well. Together, Britt and Toby won his first red ribbon in the Road Hack class, as well as a third place in the show hack. At a later show, Britt and Toby went on to win Overall Champion with two first and a third in the hack division at Old Orchard Farm, as well as another first in the hunter under saddle.
Toby will be competing competitively in the 2019 season on the trillium and/or A-circuit level. Keep an eye out for this flashy, heart-of-gold gelding.