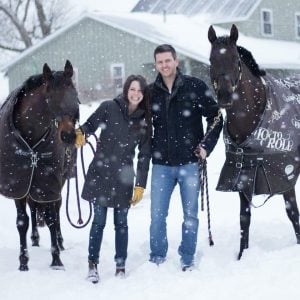 Britt and Nick purchased their farm in August of 2017. Over the past few years they have worked hard to bring their dream and vision to life. Their hard work, teamwork, and just being able to have fun doing anything together have made this journey exceptionally exciting for them!
Britt and Nick married on June 5, 2018. It was a small wedding (very small) and took place in the barn at Offshore Acres. The horses and Jack joined them as they said, "I do" in front of Brady's stall. They married in jeans and a t-shirt, and it couldn't have been more perfect.
Britt was introduced to horses very young. She started at the age of 5, riding ponies a few times a week. When she was 7 she officially started english riding lesson in Ajax, Ontario. She quickly fell in love with the sport, and was even competing at the age of 7.
Britt's small stature, yet well-rounded ability as a child allowed her many opportunities to ride many different ponies for clients, and allowed her the ability to show at a wide range of shows for them. It was here when she fell in love with competing, and that love of showing has continued into her adult years.
Britt's riding continued while she was completing her Bachelor of Science degree at the University of Guelph in 2008. When she finished her degree at Guelph, so continued post-secondary education at York University where she completed her bachelorette in Nursing. She owned Brady while in school at Guelph, and when she started her degree at York, Remy and Seabiscuit joined the family.
Britt found her way north, and settled in Meaford in 2015 where she worked as a Registered Nurse at the Meaford Hospital. She met Nick after moving up here, and in August 2017 moved to Markdale and have made Offshore Acres home ever since.
Nick was born and raised in the Grey-Bruce area. As a child, Nick grew up around horses, and rode until he was around 13 years old. His mother is still actively involved in the horse world, and taught Nick to ride her Arabians as a boy.
Nick's focus turned to Motocross and Nick competed for the majority of his childhood, teen and early adult years. Nick is still involved in the Motocross world, but retired riding due to multiple injuries in the sport!
Nick's innate love for the horses as a child came back to light when he met Britt. Feeling at home around the horses, he eagerly began riding again, and fell in love with Rory. Nick's mom couldn't be happier that he is back riding, and has accompanied them throughout their show seasons. A great horsewoman that Britt is very thankful to call her mother-in-law.
Together, Nick and Britt work hard to bring their dreams to life. They are lucky to have found one another, and enjoy spending time with their four-legged family, and enjoy working on making the dream of Offshore Acres come to light.