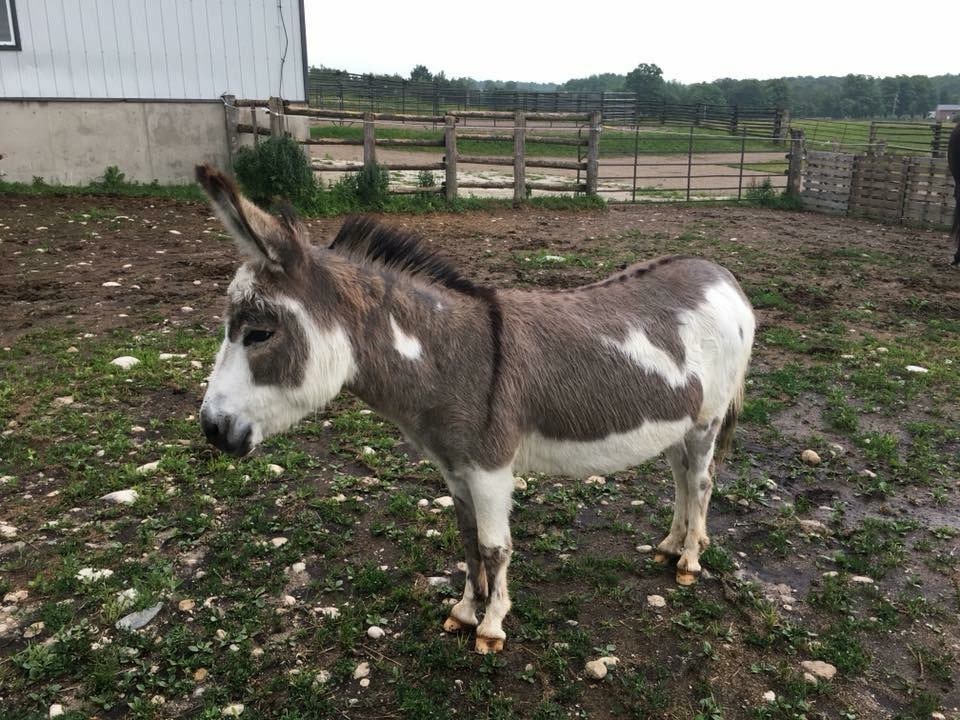 Barn Name: Jack
Birth Date: April 4, 2006
Sex: John
Color: Spotted Grey
Breed: Miniature Donkey
Height: 8.1 hh
Jackson, or Jack as he is more commonly known by, is the personality of Offshore Acres! A very comical donkey, Jack loves the attention of people, and would much rather be helping out in the barn than out in the pasture with the group. He loves his people, and loves to be the centre of attention.
Acting more like a dog than a donkey, Jack comes when he is called, calls back when answered, and loves to be cuddled and fussed over. Some people say that donkeys are stubborn, but they are actually just very smart! Jack is no exception to the rule, and is constantly testing his boundaries and trying to outsmart Britt and Nick, and the rest of the OA herd.
Jack is broke to drive, and has pulled a cart in his past, as well as a taken Britt on a little adventure pulling a sled in the winter! Britt and Nick plan on working with Jack this winter in pulling a sled, and again in the spring to get him use to pulling a cart again. Together with Seabiscuit, they should be quite the team!
Jack's love for Britt was shown when he willingly put Britt on his back one day in the summer! Jack put his head between her legs, and slowly lifted her onto his back! Jack's antics are hilarious, and we are looking forward to seeing many more "Jack Moments" in the future!